Holistic Approach to Saddle Fitting:
The influence of saddle fit on horse and rider is an essential component of equine performance. To achieve harmony horse and rider must be in perfect balance, free from restriction and discomfort. All too often riders are unable to sit in the correct balanced position or find themselves tipped forwards or back by a saddle that is not correctly balanced. Likewise too many horses are restricted by a badly fitting saddle, resulting in muscle tension, pain and atrophy.
ABOUT THE PRACTITIONER MSFC QUALIFICATION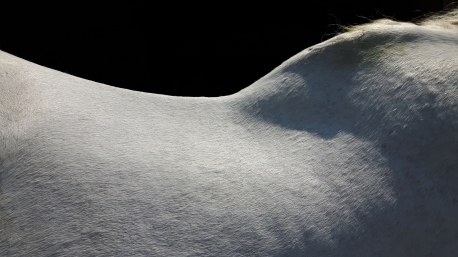 Atrophy of the back muscles is a sign that your saddle may be causing a restriction
Signs that your saddle needs checking include:
THE HORSE:
Muscle wastage / lack of topline / uneven development

Reactive behaviour when being saddled or girthed up

Reluctance to stand quietly to be mounted

Heat, pain or swelling under the saddle

White scar hairs or saddle sores

Behavioural changes - napping, bucking, refusal to go forwards, head tossing, jogging or tense movement
THE RIDER:
Difficulty achieving the correct shoulder-hip-heel alignment

Legs are pushed forwards and seat tipped back

Difficulty rising to the trot

Getting left behind during transitions or jumping

Difficulty applying the aids clearly

Feeling tipped forwards as though riding down hill

Slipping or sitting to one side
As an animal therapist Eiddwen understands the importance of an holistic approach to all aspects of the horse, this is especially important when assessing saddle fit. If the body is not correctly aligned the saddle can not sit in balance, likewise if the saddle or rider are not straight this will lead to imbalances in the horse. A full assessment of the horse's conformation and movement is undertaken at each saddle assessment, in addition your horse will also be checked for any musculoskeletal pain or restrictions.